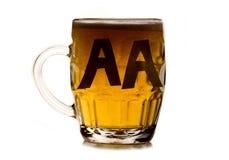 CONSIDER AN ALTERNATIVE METHOD!!!!
It's so much fun to sit in a room full of bitter dry drunks complaining about everything they hate about life.  Go back to drinking then and save the rest of us from hearing it.  Maybe you complained less when you were drunk!
Oh, so you guys are doctors now. I can't take anxiety medication but you can step out and smoke yourselves to death and infect others with your nasty second-hand toxins you exhale like dragons choking and stinking up everyone around you.  Then you go drown yourselves in caffeine.  Because those things aren't remotely addictive!
Any organization that says their way is the only way IS A CULT! I am genuinely glad it works for some.  Keeps drunk drivers off the road that kill others!  For those who don't want Bill W. rammed down their throat, there are other alternatives methods that might work for them better.  For example  https://www.the-sinclair-method.com/.  The Sinclair method has an 80% success rate compared to AA which only has 5-10 percent.
Oh and one of my favorites. You are going to make me hold hands in a circle with some dirty looking people who don't look like they have washed their hands after how many times of using the bathroom?  What if you have germophobia?  Well, I guess they could bring in hand sanitizer.  But oops contains alcohol so somebody might drink it!
Chant, chant, chant. We can all recite the same words over and over but not listen to a  damn word we are actually saying.  Repetition of the same words is not my idea of a cure!  It's how I got through college, memorizing things.  Has it helped me today? Hmmm, it certain ways, but not really where it counts!
 FIND GOD! Your higher power can be anybody, right?  Everybody, I would like to introduce Satan into the room.  He is our newest leader!  He is the one distracting you and making you think smoking is less deadly to your body than booze!
Sit in the back and get either hit on or offered connections to other drugs you have never even heard of!  Way to go with a court-enforced program.   Let's make the problem worse!  Oh, and it's just embarrassing saying"ok google" in the middle of the meeting  "how do I get a sponsor?"  The empathy, I have found in the meetings is overwhelming. I saw somebody struggling for help, very drunk and they left them in the middle of the room passed out.  I wasn't trying to get that person in trouble but what am I supposed to do.  I called an ambulance.  They could be dying or choking on their own vomit!
You shouldn't feel the need to drink to get through one of these bloody meetings. And where is the useful information that is not pure brainwashing?  Like nutrition, medical advice etc….  Okay, clap for me as I make it to the front of the table for my 3oth one day chip without actually falling on my ass this time.  Please don't tell me the 12th step is a promise of meeting turns out to be L. Ron Hubbard's alien!
THE BOTTOM LINE!
I am genuinely happy for those who have had success with AA!  
Alcohol is a poison and a demon that kills!  An estimated 88,000 people (approximately 62,000 men and 26,000 women) die from alcohol-related causes annually, making alcohol the fourth leading preventable cause of death in the United States according to the NIH (National Institute on Alcohol Abuse and Alcoholism).
 I cannot recall one pleasant experience I have ever had with AA and I am so happy that the combination of counseling, good nutrition, and the Sinclair method is what I have found to have been beneficial for me!
I do not want to destroy or bring down AA.  I just felt the need to point out certain facts about them because they actually made me feel so rotten that I wanted to drink more!  Plus, I wanted to alert people that there are alternative methods if this form of a cult is not working for you.   What happens to many?  You become addicted to the meetings, the meetings stop working and boom you are back that deadly substance that will kill you!
JUST PLEASE REMEMBER, AGAIN ANY ORGANIZATION THAT SAYS THEIR WAY IS THE ONLY WAY – CULT, CULT, CULT!!!  
IF IT WORKS FOR YOU – KEEPING  COMING BACK, IT WORKS IF YOU WORK IT!
 BUT  PERSONALLY, AA I WOULD JUST LIKE TO THANK YOUR RUDENESS, LACK OF COMPASSION, SAME OLD BORING STORIES AND HYPOCRISY!
I do love genuinely love the serenity prayer!  You should say the whole thing and perhaps attribute it to who actually wrote it!
God grant me the serenity
to accept the things I cannot change;
courage to change the things I can;
and wisdom to know the difference.Living one day at a time;
enjoying one moment at a time;
accepting hardships as the pathway to peace;
taking, as He did, this sinful world
as it is, not as I would have it;
trusting that He will make all things right
if I surrender to His Will;
that I may be reasonably happy in this life
and supremely happy with Him
forever in the next.
Amen.
LINKS:
Open your mind to the best solution that works for you!