Yep, it's summer!   And guess what, Sun exposure is responsible for most of the visible aging of your skin—far more than all other factors combined!  Consider those UV rays to be kryptonite to your skin!
.
You only get one face!
:
RULE 1: AVOID THE SUN!
Statistics state that one out of five Caucasian women are literally addicted to going to the tanning salon at least once a week.  I have seen it with many of my friends. At first, the golden glow is very pretty, until the freckles and wrinkles follow shortly behind.  The solution, yep more sun.  Tanned leathery skin becoming more damaged is apparently a preferable choice over softer whiter skin staying healthier and slowing down the aging process.
Let's look at Donatella Versace (or let's not look!)
This is Donatella naturally when she was younger, you can see the premature aging on her face from prancing around in a bikini on the beaches of Miami.  She's not so bad looking in her youth.
I did a little photoshop experiment (shown on the right) to see how she really might have looked had she stayed inside that Versace mansion! Personally, I like the paler look on her.  Especially with her hair that shade of blonde.
Most of us know that Donatella has transformed herself into a monster with her excessive plastic surgery.  The doctor who worked on her face should have been placed in front of a firing squad instead of taking his business to Lindsay Lohan.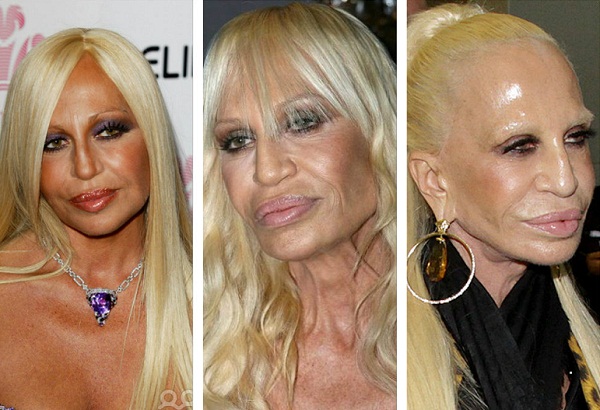 Dr. "Fill my Pockets, I Fix your Wrinkles" saw her coming a mile away!  It looks like his surgical instruments were a compilation of needles, thread, a clothing iron, scissors, vaseline, thick black eyeliner pencils, heavy concealer and a strong prescription for valium to keep Donatella from ripping him into shreds when she saw herself in the mirror.
 Though she is a Versace, people get paid to tell her she looks good and convince her that all the negative comments about her face are just jealousy from other women!  She certainly hasn't learned her lesson about the sun that's for sure!
Martina Adam went a little further than the sun.  She is a blonde German white woman who transformed herself permanently into a black woman.  Not just tanned, but extremely dark skinned and she injected her skin with an enhancement to increase melatonin.  She apparently is beyond happy with her drastic transformation which started with gigantic breast enhancements and finished (with her becoming darker than most African American women.
Martina claims to identify more with the food and other areas of the African culture.  Her creepy German boyfriend is quite happy with the procedure and actually encouraged her to do the change.  I get the feeling he will be replaced pretty soon …
She reminds me of a gigantic Voodoo doll or some kind of small village big game hunter who also dresses up in drag at night to play the role of the local Witch Queen. Either way, I can't tell you who would scare me more if I woke up and saw them standing at the foot of my bed.  Her or Donatella.  Or even worse – both!
Here are some products I really like that keep the skin healthy and help repair some of the damage.
      

Click on each of the products to find out more details and where to purchase!
My all time favorite is  Dr. Perricone.  His products contain some of the most potent ingredients out there to maintain beautiful skin.  Peptides, Vitamin C, DMAE, Retinol, collagen etc… are all essentials that you should look for when purchasing anti-aging products.
As you can never avoid the sun completely, I recommend using Neutrogena Ultra Sheer Dry-Touch Sunscreen SPF 55 if you are on a budget
or if you have a few extra dollars
La Roche-Posay Anthelios 50 Tinted Mineral Ultra Fluid Sunscreen
Either way, both are very potent with SPF 50 or higher, non-greasy, don't cause breakouts and feel comfortable on your skin.  Be careful other there, you don't want to be Lindsay Lohan at 25 being mistaken for Donatella at 56!  And yes it that really did happen and had a bunch of photographers frantically shooting photos of Lindsay thinking she was Donatella.  How depressing would that be, at least be mistaken for a good looking 56 year old, not one that looks older than her years too!